EA FC 24 Hacks: Direct Access from the Source
Get direct access to FIFA 24 hacks! For just $4, use the FC 24 hack to take control. Unlock the ultimate benefit with ease.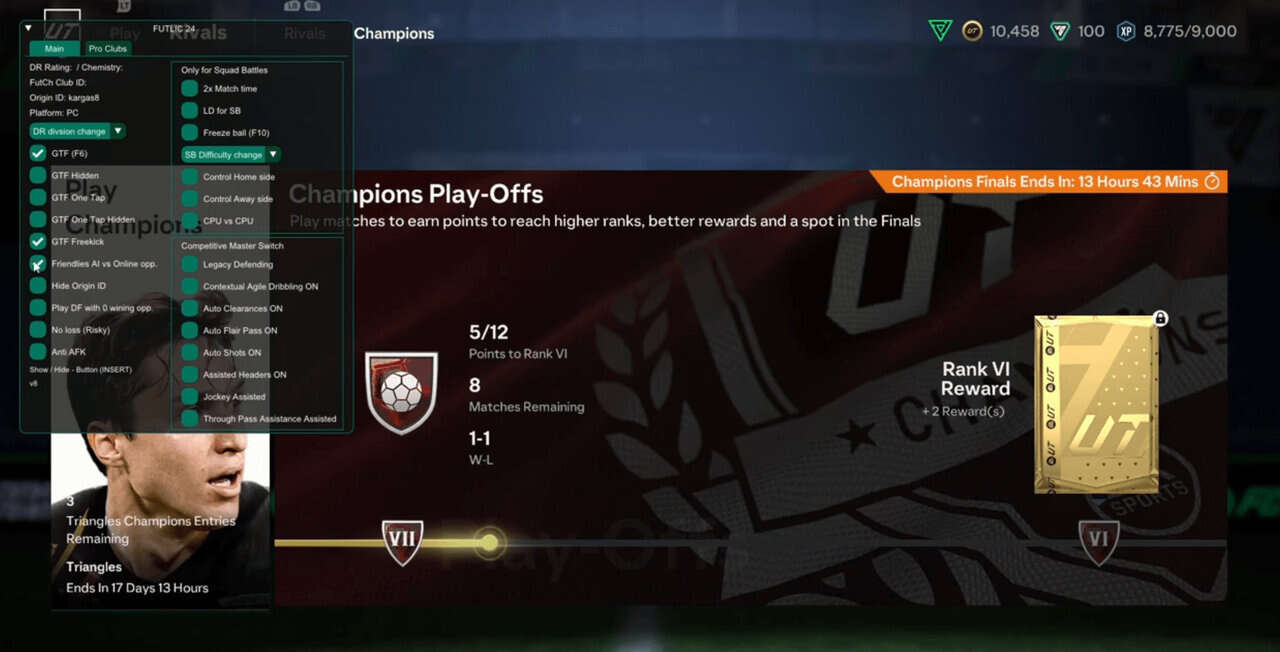 Discover the world of FC 24 hacks, a leading source for dominating online Ultimate Team battles in FIFA 24. You may directly access various hacking packages designed just for EA FC 24 at Cheatservice, where you can also get comprehensive details on features, costs, and smooth gameplay improvements.

Last Updated: November 27, 2023

Recent developments include new hacks for FC 24, coinciding with the latest EA patch. The AI vs. online opponent feature is back on DR, WL, and Draft. Players are achieving easy 20/20 wins on FUT Champions, and a new trick for this feature involves changing the game difficulty to World Class in the settings, enhancing AI performance. Speedy players are recommended for optimal AI performance. This feature is available in the EA FC 24 FUT Pack.

Beyond the realm of hacks, there's exhilarating news for every EA Sports FC 24 player. UEFA Euro 2024 is on the horizon, and it's coming as a free update! In a joint announcement by UEFA and EA Sports, players on PC, PS4, PS5, Xbox One, Xbox Series X|S, and Nintendo Switch can look forward to this exciting addition. The tournament mode is slated for a summer release, promising an immersive experience for all platforms.

The Best FC 24 Hacks from Cheatservice
When exploring the variety of FIFA 24 cheats, Cheatservice offers two noteworthy FC 24 hack packages: the EA FC 24 Hack by FUT and the EA FC 24 Hack by Autowin. Strategically elevating FIFA 24 players, these tailored packages offer a distinct advantage. These meticulously designed hacks provide specific enhancements and features, catering to diverse gaming styles and preferences.

The EA FC 24 Hack by FUT
FUT presents legitimate features essential for achieving quick wins within the EA FC 24 Hack. Among the many benefits of this package is the flexibility of changing divisions, which will make you match up against less experienced opponents and have a weaker team overall. It also allows AI to represent you in the game using the "AI vs. opp" feature, which guarantees victory in the weekend league. With extra features, including 5-star skill moves, Green Time Finishing, and a 5-star weak foot, this hack improves your game.

Get this cheat now.
The EA FC 24 Hack by Autowin
Players who want to dominate without participating in matches should consider the Autowin package. With the help of the rage features in this pack, you can win the game without a single effort. Your opponent is immediately disconnected from the game when you activate the Auto Win function, instantly giving you victory. Moreover, the No Loss function protects you from losing games, guaranteeing a winning run.

Simultaneous Usage of Packages
It is possible to use the Autowin and FUT packages simultaneously. Players can combine these packages to obtain various benefits and use different features. Use the FUT package for a legitimate gaming experience, and use the disconnect win option wisely because it could result in a game ban.

The Main Source for FC 24 Hacks
Although several websites provide FC 24 hacks, Cheatservice is the primary source. Users may take advantage of low prices, exceptional guidance, and extensive information at Cheatservice, guaranteeing they stay updated with the latest releases and updates.

Cheatservice vs. Other Platforms
Users at Cheatservice get access to hacks straight from the source while getting excellent customer service. This unique benefit makes it possible to communicate directly with developers and to recommend fresh features for already-existing packages.

Why Use FC 24 Hacks?
There are many reasons to use FC 24 hacks in FIFA 24, and they significantly impact your gameplay. These hacks give players a competitive advantage, enabling more successful and flawless matches. Gamers use these improvements for many purposes, such as trying new tactics or getting an edge over rivals. It's not just about winning; these hacks let users test and become proficient with the game's more complex features. Additionally, they allow players to personalize their gaming experience by allowing them to change the gameplay to suit their preferences. Ultimately, these hacks are a tool for betterment, be it for achieving goals on a personal level, improving gameplay in general, or simply adding more enjoyment.

Downloading EA FC 24 Hack from Cheatservice
Downloading the EA FC 24 Hack from Cheatservice opens up a world of unmatched benefits. With the ability to easily alter your matches, this special offer offers a wealth of capabilities to improve your FIFA 24 experience. To gain access to this powerful upgrade, complete these steps:

- Navigate to the Hacks Page: Go to the Cheatservice page corresponding to the hack you want to use.
- Purchase the Hack: Select the preferred hack package and finish the purchase.
- Please get the Download Link: As soon as you complete your purchase, we'll provide the download link to the email address you entered.
- Install the Hack: Using the provided link, download the hack, then follow the installation instructions.
- Activate and Customize: Launch the hack and use the built-in customization features to make your settings unique.
- Rule Your Field: Launch FIFA 24 and easily apply the hack to get an instant advantage over your rivals.

By following these easy steps, you may take control of your FIFA 24 gaming experience and unleash the fantastic possibilities the EA FC 24 Hack offers.