BattleBit Remastered: A Game Developed by Just 3 Developers

BattleBit Remastered is an online multiplayer first-person shooter game that was developed by just three developers – Lucian Perlavicius, Dalius Stasyunas, and Andrius Tokevicius – under the company ANPA.US. Despite its small development team, the game has gained a significant following, and its unique features have captured the attention of gamers worldwide.

The game offers a wide range of weapons and intense battles that take place in different settings, including urban, desert, and forest environments. With impressive graphics and fast-paced gameplay, it is not surprising that many players are hooked on BattleBit Remastered.

However, as with many online games, the topic of hacks and cheats is never far away when it comes to BattleBit Remastered. Some players use hacks and cheats to give themselves an advantage over other players.
Our hand-picked BattleBit Hacks:
BattleBit Hacks
Enhance Your Battlebit Experience with Our Safe and Effective Hack

Hacking in Battlebit can be both exciting and rewarding. However, there are some downsides to consider, such as legal troubles, ethical concerns, and security risks. But what if we told you we have a hack that eliminates these issues and makes hacking in Battlebit both fun and safe?

Our hack is among the best in the market and is designed to help you win every game. It has advanced features and an easy-to-use interface, making hacking easier and more enjoyable than ever before. Take your Battlebit gaming to the next level and dominate your opponents.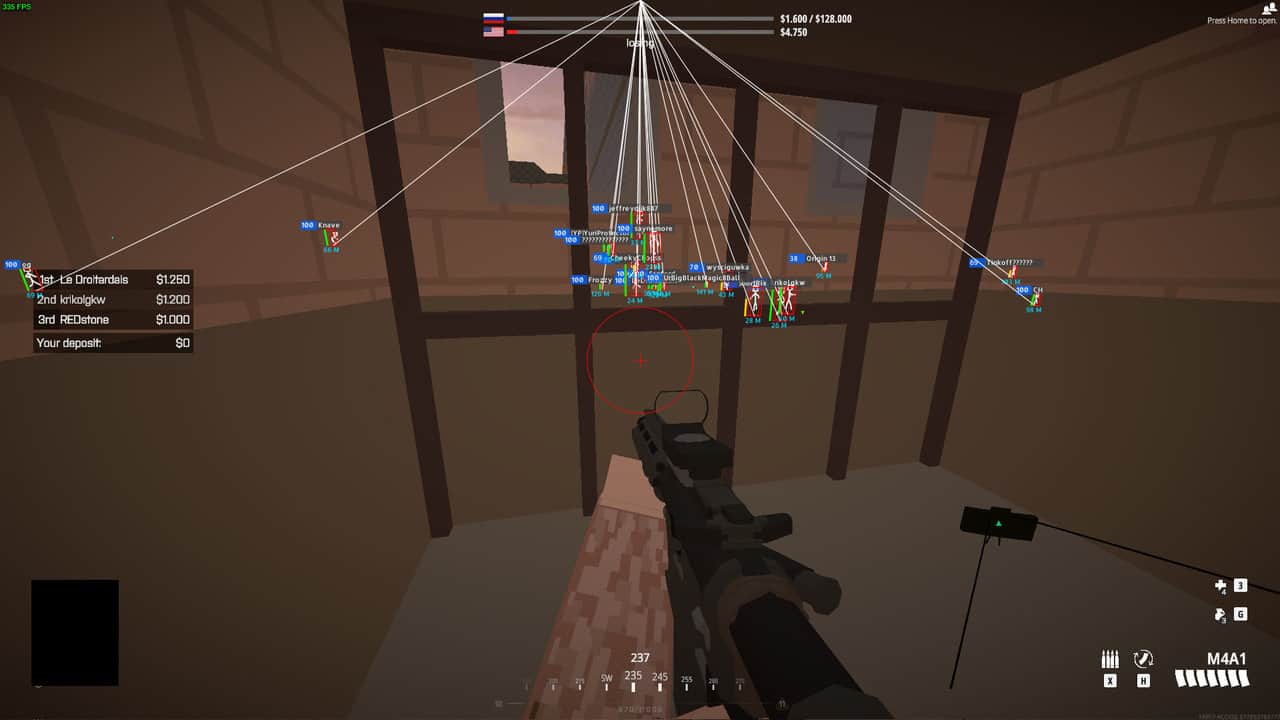 Why take risks with hacks that could harm your computer or account? Our hack is completely secure and safe to use. We've taken extra precautions to protect your account from bans or penalties. Hack as much as you want without worrying about negative consequences.

So, what are you waiting for? Try our hack today and unlock your full potential in Battlebit. With our hack, you can cheat your way to victory without any drawbacks. Purchase our hack now and experience a whole new level of hacking fun!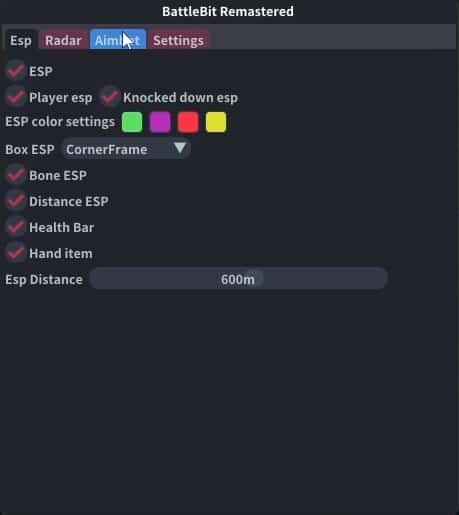 Popular hack features in BattleBit
ESP (Visuals)
See players character, information, loot etc. through walls.
- Max bones render distance
- Bone style
- Highly configurable!
- Battlemode
- Max health, name, info render distance
- Healthbar position
- Healthbar style
- Border style
- Visibility checks
- Object ESP

Aimbot
Automatically aim at your enemies.
- Aim at specific bone
- Highly configurable!
- Aim hotkey
- Field-of-view
- Aim smoothing
- Target selector
- Lock target
- Switch target delay after kill
- Draw crosshair
- Show snaplines
- Visibility checks
- Silent Aim
- Magic Bullet

Misc (Special options)
Miscellaneous features and exploits.
- Radar hack
- No Recoil
- No Camera Shake

Aimbot hack in BattleBit
Aimbot hack is one of the most widely used cheats in the gaming world, especially in games like BattleBit. It is a software program that automatically locks onto the targets for the player, making it incredibly easy to shoot and hit opponents. This cheat has become so popular among gamers because it gives them an unfair advantage over other players who are not using it.

The way aimbot hack works is relatively simple. The program is designed to scan the game environment continuously, searching for any opponents who are in the player's view. Once it finds a target, it locks onto them and automatically adjusts the player's aim to ensure a shot hits its mark. This means that players who are using aimbot can easily hit targets that would otherwise require precise aiming skills.

The process of aimbot hack can vary from game to game, but the basic concept is the same. The software usually works by accessing the game's memory and manipulating the aiming mechanism. This manipulation ensures that the player's crosshair is always pointed directly at the target, regardless of any obstacles or movements in the game environment.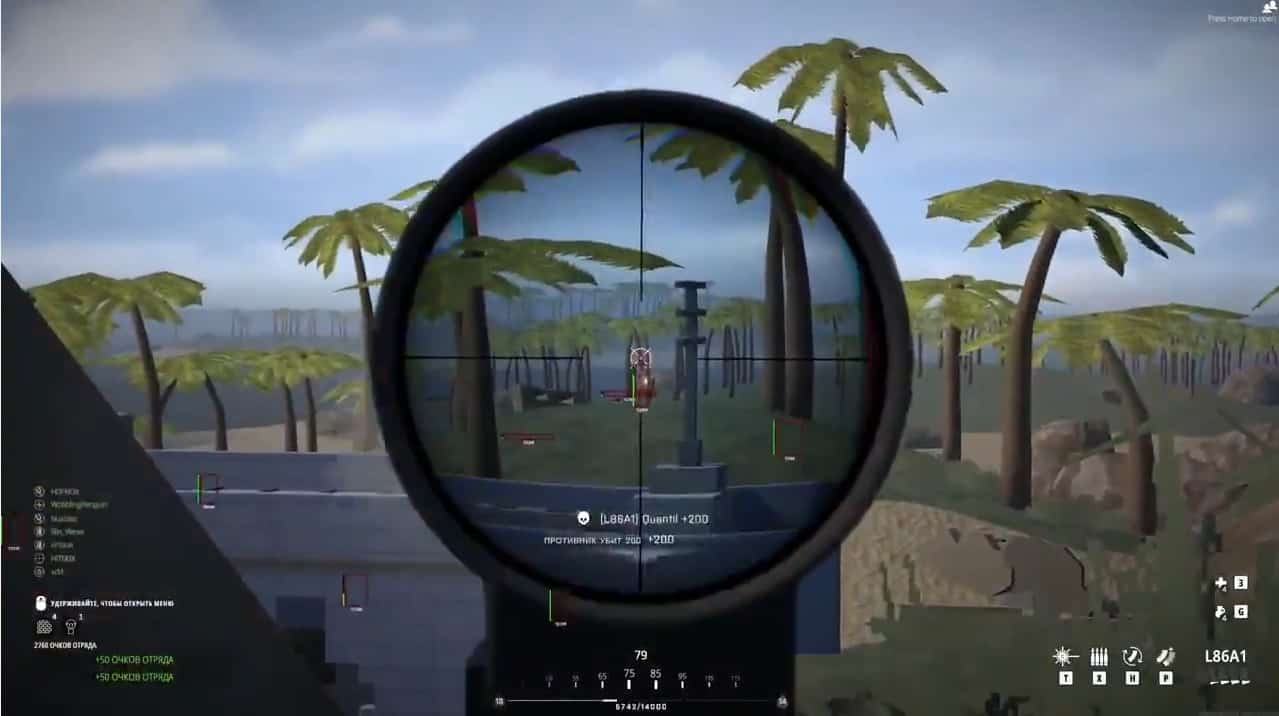 ESP & Wallhack cheats in BattleBit
ESP, or Extra Sensory Perception, allows you to see through walls and obstacles, giving you a clear line of sight on your enemies. This gives you a huge advantage in battles, allowing you to predict your enemy's movements and take them down before they even see you.

Wallhack, on the other hand, gives you the ability to see through solid objects, such as walls or boxes. This allows you to see the position of your enemies on the other side, giving you a huge tactical advantage when planning your next move.

Combined, these two hacks give you an unbeatable edge in BattleBit, allowing you to dominate your opponents and come out on top every time.

But don't just take our word for it - try it out for yourself and be ready to experience the best gaming moments of your life. With our ESP and Wallhack hacks, you'll be untouchable.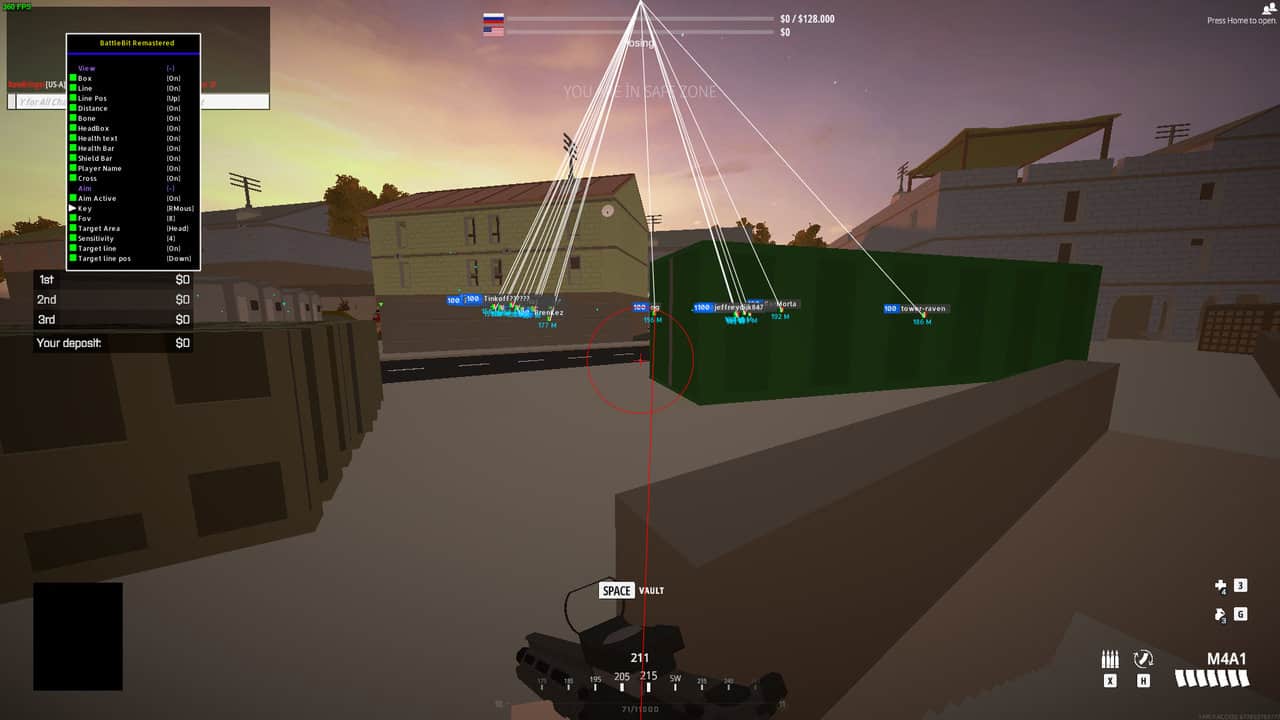 Is it safe to use BattleBit hacks?
We understand that cheating can be a sensitive subject, which is why we guarantee that our hacks are safe to use. Our team of experts is constantly updating and improving our software to ensure that it remains undetected and that you can use it without any issues.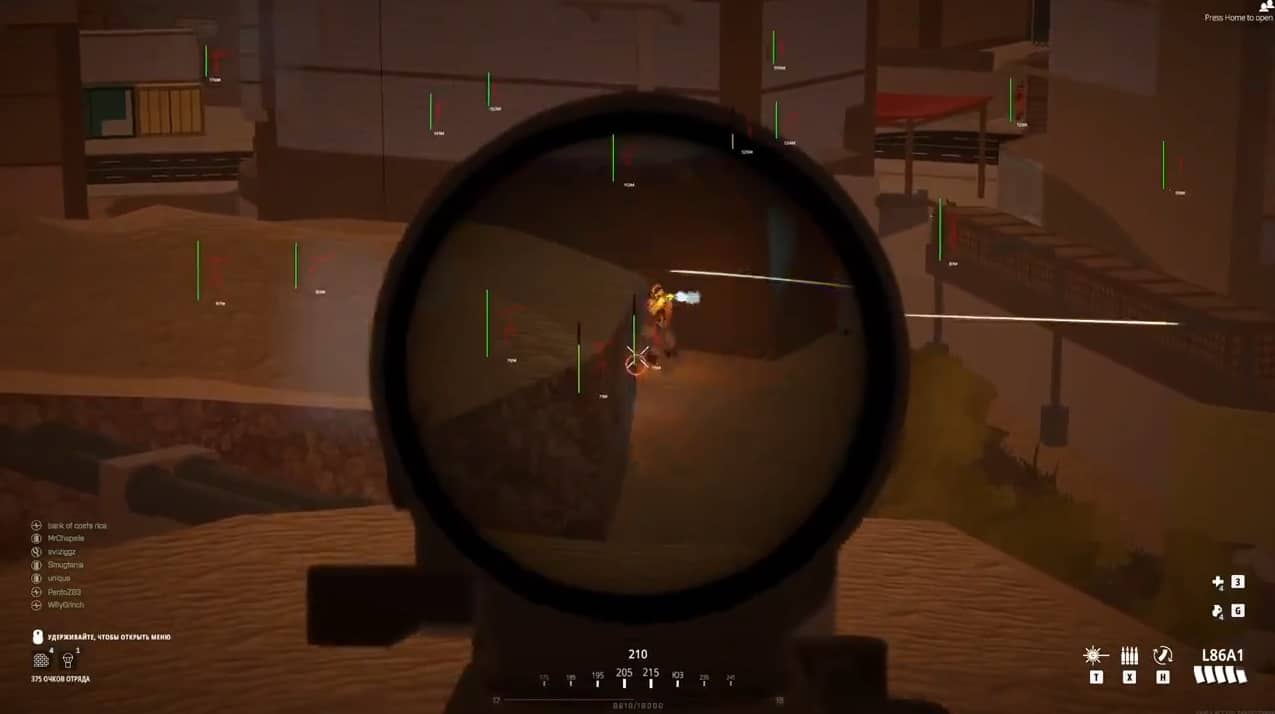 Our professional developers have created top-of-the-line software that will give you the upper hand in the game without compromising your account's safety. Our hacks are designed to be completely undetectable by anti-cheat programs, ensuring that you can play without fear of being caught.

We offer a wide range of hacks and cheats for Battlebit, from aimbots to wallhacks and everything in between. Whatever your gaming style may be, we have a cheat that will suit your needs. Our hacks are reasonably priced, making them accessible to all players regardless of their budget.

So what are you waiting for? Get ready to enjoy the ultimate gaming experience with BattleBit!

In conclusion, if you want to gain a competitive edge in Battlebit without being caught by the game's anti-cheat system. Look no further, as we offer undetected hacks for Battlebit that will make you completely invisible to EasyAntiCheat!

View our BattleBit Products:
Discover our other games and hacks